Spring is less than 2 weeks away, which means it's time for yard games. As the weather improves, and the fun moves outside. But… sometimes it can be difficult to get your kids to follow.
With TV, video games, and places to charge their cell phones all inside, sometimes our kids need a little motivation to recognize the adventure that awaits outside those doors. We've put together our list of fun outdoor activities from DIY to Amazon free shipping. These games and activities are sure to provide hours of entertainment for both friends and family.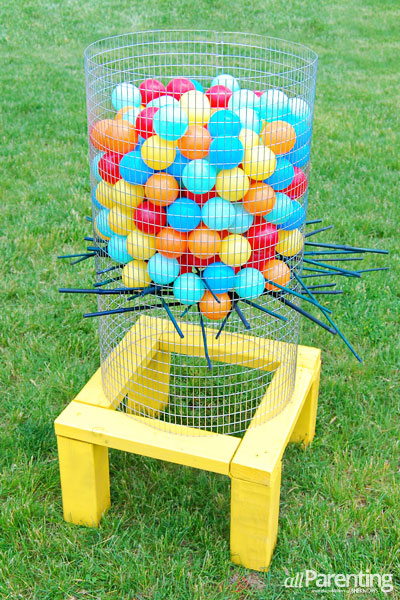 1) Giant Ker-Plunk Yard Games
Let's start with my kids personal favorite. This giant Ker-Plunk is a little more difficult than the remainder of our yard games, but it's guaranteed to be a favorite. It's a pretty simple game to play, but you don't necessarily have to follow the rules. My kids have the most fun seeing who can get the most balls rather than the least. In the end, if they're having fun, so am I.
To learn how to build this game, check out these detailed instructions!
2) Garden Tic-Tac-Toe
This DIY activity doesn't take long to set up, and can also be used as a fun yard decoration. All you need is:
Large Round River Rocks (Often sold at craft stores)
Paint and Brush
Round Stump (or something else to use as a board)
Spending a little bit of time setting this up right will make for a cute yard decoration that even the kids will enjoy.
[the_ad id="64″]
3) Backyard Twister
This one is arguably my favorite of all the yard games. By using colored marking chalk we were able to do this without killing our grass. Use a cardboard box with a circle cut in the bottom as a stencil. This takes about 10 minutes to set up, and should be dry within 30.
Once dry, either use a spinner from the actual twister game, or download the Twister app in the Google Play Store. Then enjoy hours of fun with family and friends.
4) Ultimate Trac Ball
These are fun to play with alone, but even more fun when you use Ultimate Frisbee rules. These toys are easy to master, and you'll be having fun in no time.
These are often available at sports stores for around $15, but you can also get them on Amazon if you're willing to pay the premium.
5) Ladder Golf
Find a nice shaded area, and get ready for some friendly competition. Ladder Golf is an extremely simple game, and it's easy to adjust the difficulty for different skill levels and ages. Simply stand a distance (you decide) away from the ladder, and throw the bolos so that they hang on the rungs. Top rung is 3 points, middle is 2, and bottom is 1. Play to however many points you decide, but remember, you have to get the exact points to win.
To purchase a set just check out Amazon. Personally, I made my own and absolutely love it.
6) Giant Jenga Yard Game
Can you imagine a 3 foot tall game of Jenga? Better yet, can you imagine the laughs when it comes crashing down? This idea is golden.
Start off with 54 2×4 boards cut 12 inches in length. You can do this yourself, but most lumber yards will also offer to do this for you at a reasonable price. Make sure to sand these down so that no one is getting any slivers, and the boards can slide easily across each other.  Feel free to paint the ends to add a little color to the game, and that's it!
Once this is done, get ready to play!
7) Spikeball
Ever since I saw this game on Shark Tank, I knew I wanted to try it. The new sport has exploded across college campuses, and for good reason. IT'S A LOT OF FUN! The rules are just like Volleyball, but instead of hitting it over a net, you bounce it off of one. This turns into 360 degrees of fun.
I could go on for pages without doing the game justice. Best thing to do is check it out for yourself and you can even have it shipped free from Amazon.
8) Bocce Ball
This yard game has been around for centuries, but recently gained a lot of interest. The game is very simple to play, and it's easy to find instructions online. While the game itself can cost you $40 on Amazon, it can easily be played with a golf ball and some baseballs.